+
$22.94
delivered by
Jun 29th
Micro:bit by BBC has become the heart of countless creative projects around the world and a trusted educational learning...
+
$195.00
delivered by
Jul 3rd
Designed to inspire curiosity, creativity, and invention through connected play and coding, SPRK+ is far more than just ...
+
Last week I held another Raspberry Pi workshop for beginners. These workshops are a fantastic way to jump-start your journey with a Raspberry Pi. We covered the first-bootup experience, dabbled wit...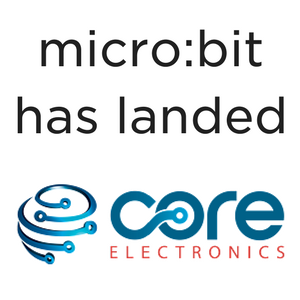 +
The micro:bit by BBC has arrived! This is a big deal for schools and educators because the micro:bit is specifically designed for the classroom.
The micro:bit is a microcontro...
+
$865.00
PRERELEASE- Stock arriving November. Makeblock Neuron is an electronic building block platform for STEM education. It co...
+
$360.00
PRERELEASE- Stock arriving November. Makeblock Neuron is an electronic building block platform for STEM education. It co...
+
$4.16
delivered by
Jul 5th
A button is a button, and a switch is a switch, but these translucent arcade buttons are in a class of their own. Partic...
+
$220.00
delivered by
Jul 10th
Locate your stuff! The Asset Tracker Kit from Particle contains all of the pieces you need to build a Cellular + GPS loc...
+
What is a Paper Circuit? STEM technology has evolved into all kinds of fantastic forms with many brands bringing craft and electronics together in new and innovative ways. There's plenty of products which make use of 'paper circuits&rsqu...
+
As technology gets smaller and more powerful, wearables and portable devices are becoming more common in our everyday lives. Makers are looking to make projects portable and with that comes the need for high capacity batteries that are reliable, powe...
+
Firstly, what are Coin Cell Batteries? A coin cell battery is a flat, cylindrical battery used in a bunch of small electronics applications. You might have seen them in a wristwatch, remote control or any piece of wearable tech. Typically coin cells...
+
What good is a robot if it can't interact with the environment around it? Sensors are the backbone of almost every electronics project as they allow your program to make decisions based on external stimuli. We've got sensors for all kinds...
The Pimoroni Unicorn HAT lets you add 64 dazzling RGB LEDs to your Raspberry Pi, and makes for a sickeningly colourful display. I'll show you how to get yours set up, and we'll have a go at modifying an example script.
Related Content
It's time to share your awesome Raspberry Pi project with the world! A more polished way is to create an installer script - an executable file that handles installing packages and tweaking settings for the user. This is what we'll be working on in this tutorial.
Related Content
We're Australian distributors and/or resellers for these brands: