+
$22.94
delivered by
Jul 24th
Micro:bit by BBC has become the heart of countless creative projects around the world and a trusted educational learning...
+
$195.00
delivered by
Jul 24th
Designed to inspire curiosity, creativity, and invention through connected play and coding, SPRK+ is far more than just ...
+
Last week I held another Raspberry Pi workshop for beginners. These workshops are a fantastic way to jump-start your journey with a Raspberry Pi. We covered the first-bootup experience, dabbled wit...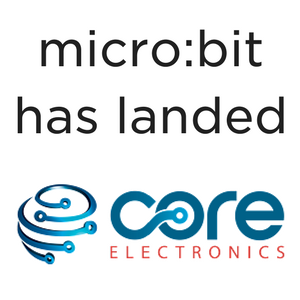 +
The micro:bit by BBC has arrived! This is a big deal for schools and educators because the micro:bit is specifically designed for the classroom.
The micro:bit is a microcontro...
+
$160.00
delivered by
Jul 24th
Learn electronics with the Elenco 200-In-One Electronic Project Lab! This kit includes everything you need to get starte...
+
$1.21
delivered by
Jul 28th
This 2x20 male header has the same number and spacing of pins as a Raspberry Pi but is best served when used in conjunct...
+
$37.95
delivered by
Jul 31st
Get more from the BBC micro:bit with Kitronik's incredible Inventor's kit! The simple way to learn about creating circui...
+
$159.36
delivered by
Jul 24th
The SparkFun Inventor's Kit (SIK) is a great way to get started with programming and hardware interaction with the Ard...
+
Let's take a look at the new Siglent SDG 1032X Arbitrary function generator. We're looking at yet another example of the closing gap between hobbyist and pro gear - the growing feature set and capabilities of entry-level equpment continues to improve...
+
Today, we're looking at the 8Bitdo NES30 Pro. It's a newer controller from 8Bitdo and one that I'm really excited about. It's an interesting gamepad, with the styling and form factor taking cues from both the classic NES liver...
+
Before we dive into the FIDO Certified Key-ID Security Key and how it's used, let's get a handle on what authentication online means at the moment. Authentication is simply the process of identifying a user based on a set of unique factors, most com...
+
The 2-channel Rigol DS1052E oscilloscope is beloved by many as a really decent, cheap 'scope for the home electronics lab. While its features pale next to those hosted by more modern offerings, the 1052 packs the basics into a reliable little uni...
We have a Printer Enclosure Kit (by PrintedSolid) and we're going to take you through the process of putting it all together.
Related Content
Today, we're going to take a look at Circuit Scribe which is designed to make electronics fun, and teach people how to create the own circuits and create inventions using nothing more than magnetic pieces and conductive ink.
Related Content
We're Australian distributors and/or resellers for these brands: