LittleBits
We've got the whole range of Littlebits products right here in Australia! Littlebits are educational kits that open up a world electronics projects that are easy to use and a joy to explore. Whether you're an educator inspiring the next generation of problem-solvers, a parent building STEM/STEAM skills with your kids or a DIYer prototyping your next big idea, Littlebits will help you invent anything.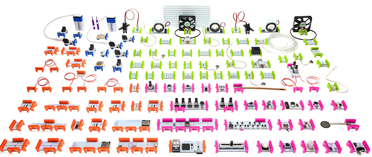 Educational purchase orders are welcomed - for more information see our customer service page for details.
We showcased Littlebits at the Sydney 2015 Maker Faire - it was sensational to see people activily learning via creative means without getting tangled in the fundimentals of electronics.
With that in mind, we love the idea completely. Small components that are very easy to understand and are intended for making stuff rather that just learning about concepts.
+
We get a lot of interest from parents and educators surrounding littleBits and innobits. Especially the difference between the two products. Both are magnetically connected electronic building blocks. Both products empower people to invent and create...
+
Professional development, educator's discounts, classroom kits teamed with hundreds of pages of supporting content and lesson plans. This is what you get when you decide to bring littleBits to the classroom. All the drudgery has been taken care...
+
The new Gizmos and Gadgets revision 2.0 from littleBits is here and we've decided to review the kit for any budding inventors (or inventor's parents) out there. The v1.0 kit was impressive enough, we were interested to see what littleBits could have ...