The Arduino Uno is an 8-bit microcontroller board based on the ATmega328 chip (see the datasheet). It has 14 digital input/output pins (6 of these can also utilize the ADC onboard for PWM), 6 analog inputs, a 16 MHz ceramic resonator, a USB Type-B connector, a DC Barrel jack for power, an ICSP header and a reset button on board! It contains everything needed to support the microcontroller; all you'll need to do to get started is simply connect it to a computer with a USB cable or power it with a wall wart adapter and the barrel jack or with a battery and the Vin pins.
The Uno is an entirely different board to the previous Duemilanove in that it got rid of the onboard FTDI USB-to-serial driver chip in favor of the Atmega16U2 (Atmega8U2 up to version R2) programmed as a USB-to-serial converter.
Revision 2 of the Uno board made a change to make it easier to put the board into DFU mode.
Revision 3 of the board made a few more changes including:
1.0 pinout: Added 2 Pins near the AREF pin for I2C, and an additional two pins near the RESET pin. The first of these pins is the IOREF pin that allows SHIELDS to adapt their Voltage to the board.
Stronger RESET circuit.
The ATmega16U2 replaced the ATmega8U2.
"Uno" means one in Italian and is this board was named as such to mark the then upcoming release of The Arduino IDE 1.0. The Uno and version 1.0 are the current reference versions of Arduino. The Uno is the easily the most popular Arduino Board, being featured in almost every microcontroller beginner kit with Arduino products in them.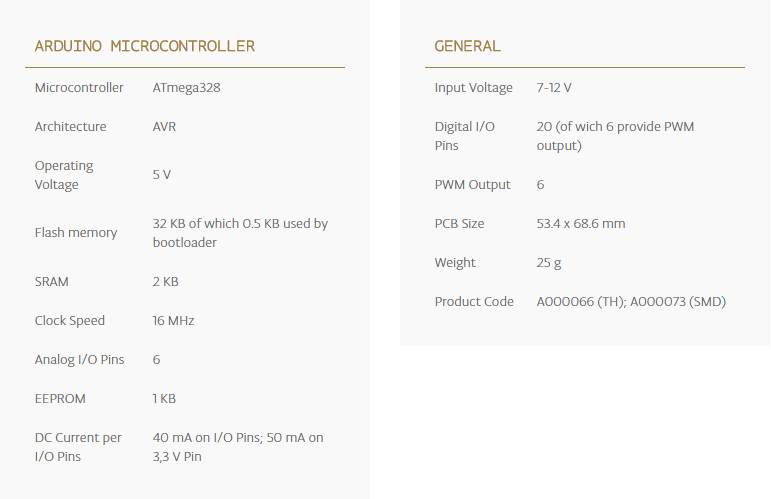 Power
There are 4 different methods you can use to power your Arduino, they include:
USB (5V) - The Uno will use any 5V power supply with a USB Type B connector. Total current drawn will be limited by the supply, most PCs only provide 250-500mA so bear that in mind if you are looking to power your project directly from a PC.
2.1mm Centre-Positive Barrel Jack (Regulates Voltage from 7-12V DC) - The Uno will use any 7-12V source here, as long as it is connected center positive and is 7-12V DC.
Vin Pin/GND Pin on Power Header on board - This pin can either be a power input (7-12V DC) or to drawn power directly from the barrel jack supply.
5V Power Pin on Power Header on Board - This pin can either be used as a 5V output pin or to supply 5V.
When powering the circuit via multiple methods, the 7-12V supply options will take preference over the 5V, and the 5V will be used for data transfer.
Memory
The ATmega328 controller chip contains 32 KB of memory (0.5 KB of this is reserved for the bootloader). It also has 2 KB of Static RAM and 1 KB of EEPROM.
Input and Output
Each of the 14 digital pins on the Uno uses 5V logic. Each pin can provide or receive a maximum of 40 mA and has an internal pull-up resistor (disconnected by default) of 20-50 kOhms. Control of the nature of each pin takes place within the IDE.
Some of the IO pins have extra functionality:
Serial: 0 (RX) and 1 (TX). Used to receive (RX) and transmit (TX) TTL serial data. These pins are connected to the corresponding pins of the ATmega8U2 USB-to-TTL Serial chip.
External Interrupts: 2 and 3. These pins can be configured to trigger an interrupt on a low value, a rising or falling edge, or a change in value. See the attachInterrupt() function for details.
PWM: 3, 5, 6, 9, 10, and 11. Provide 8-bit PWM output with the analogWrite() function.
SPI: 10 (SS), 11 (MOSI), 12 (MISO), 13 (SCK). These pins support SPI communication using the SPI library.
LED: 13. There is a built-in LED connected to digital pin 13. When the pin is HIGH value, the LED is on, when the pin is LOW, it's off. The Uno has 6 analog inputs, labeled A0 through A5, each of which provides 10 bits of resolution (i.e. 1024 different values). By default they measure from ground to 5 volts, though is it possible to change the upper end of their range using the AREF pin and the analogReference() function. Additionally, some pins have specialized functionality:
TWI: A4 or SDA pin and A5 or SCL pin. Support TWI communication using the Wire library. There are a couple of other pins on the board:
AREF. The reference voltage for the analog inputs. Used with analogReference().
Reset. Bring this line LOW to reset the microcontroller. Typically used to add a reset button to shields which block the one on the board.
Communication
The Arduino Uno has a number of facilities for communicating with a computer, another Arduino, or other microcontrollers. The ATmega328 provides UART TTL (5V) serial communication, which is available on digital pins 0 (RX) and 1 (TX). An ATmega16U2 on the board channels this serial communication over USB and appears as a virtual com port to software on the computer. The '16U2 firmware uses the standard USB COM drivers, and no external driver is needed. However, on Windows, a .inf file is required. The Arduino software includes a serial monitor which allows simple textual data to be sent to and from the Arduino board. The RX and TX LEDs on the board will flash when data is being transmitted via the USB-to-serial chip and USB connection to the computer (but not for serial communication on pins 0 and 1).
A SoftwareSerial library allows for serial communication on any of the Uno's digital pins.
The ATmega328 also supports I2C (TWI) and SPI communication. The Arduino software includes a Wire library to simplify the use of the I2C bus; For SPI communication, use the SPI library.
Programming
The Arduino Uno can be programmed with the Arduino software (download). Select "Arduino Uno from the Tools > Board menu (according to the microcontroller on your board
The ATmega328 on the Arduino Uno comes burned with a bootloader that allows you to upload new code to it without the use of an external hardware programmer. It communicates using the original STK500 protocol.
You can also bypass the bootloader and program the microcontroller through the ICSP (In-Circuit Serial Programming) header using Arduino ISP or similar.
The ATmega16U2 (or 8U2 in the rev1 and rev2 boards) firmware source code is available. The ATmega16U2/8U2 is loaded with a DFU bootloader, which can be activated by:

On Rev1 boards: connecting the solder jumper on the back of the board (near the map of Italy) and then resetting the 8U2.
On Rev2 or later boards: there is a resistor that pulling the 8U2/16U2 HWB line to ground, making it easier to put into DFU mode.
You can then use Atmel's FLIP software (Windows) or the DFU programmer (Mac OS X and Linux) to load a new firmware. Or you can use the ISP header with an external programmer (overwriting the DFU bootloader).
Automatic (Software) Reset
Rather than requiring a physical press of the reset button before an upload, the Arduino Uno is designed in a way that allows it to be reset by software running on a connected computer. One of the hardware flow control lines (DTR) of the ATmega8U2/16U2 is connected to the reset line of the ATmega328 via a 100 nano-farad capacitor. When this line is asserted (taken low), the reset line drops long enough to reset the chip. The Arduino software uses this capability to allow you to upload code by simply pressing the upload button in the Arduino environment. This means that the bootloader can have a shorter timeout, as the lowering of DTR can be well-coordinated with the start of the upload.
This setup has other implications. When the Uno is connected to either a computer running Mac OS X or Linux, it resets each time a connection is made to it from software (via USB). For the following half-second or so, the bootloader is running on the Uno. While it is programmed to ignore malformed data (i.e. anything besides an upload of new code), it will intercept the first few bytes of data sent to the board after a connection is opened. If a sketch running on the board receives one-time configuration or other data when it first starts, makes sure that the software with which it communicates waits for a second after opening the connection and before sending this data.
The Uno contains a trace that can be cut to disable the auto-reset. The pads on either side of the trace can be soldered together to re-enable it. It's labeled "RESET-EN". You may also be able to disable the auto-reset by connecting an 110-ohm resistor from 5V to the reset line.
USB Overcurrent Protection
The Arduino Uno has a resettable poly fuse that protects your computer's USB ports from shorts and overcurrent. Although most computers provide their own internal protection, the fuse provides an extra layer of protection. If more than 500 mA is applied to the USB port, the fuse will automatically break the connection until the short or overload is removed.
Physical Characteristics
The maximum length and width of the Uno PCB are 2.7 and 2.1 inches respectively, with the USB connector and power jack extending beyond the former dimension. Four screw holes allow the board to be attached to a surface or case. Note that the distance between digital pins 7 and 8 is 160 mil (0.16"), not an even multiple of the 100 mil spacing of the other pins.
This product is listed in:

Documentation and Resources:
Recommend a new resource or report a broken link, click here!
Educational Workshops
Welcome to the Arduino Workshop, where you'll be able to follow our guided course which covers everything you'll need to know in order to create your own Arduino projects and become a leveled up maker. My name is Sam and along with being a maker my...
Product Comments
Customer Reviews
Review by Bryan

verified purchaser

As always, good price for this awesome product (Posted on 22/01/2019)

Review by Nigel

verified purchaser

Another Arduino Uno R3 for me! Cant have enough of these on hand. (Posted on 14/08/2018)

Review by Stephen

verified purchaser

All good. Arrived on time and seems to be working ok.

Thanks, Stephen (Posted on 27/07/2018)

Review by Jim

verified purchaser

Excellent quality very quick postage (Posted on 11/07/2018)

Review by Patrick

verified purchaser

Having a great time learning electronics. (Posted on 4/06/2018)

Review by Steven

verified purchaser

Good for getting started (Posted on 25/05/2018)

Review by Georgette

verified purchaser

Great computer. Looking forward to learning and making some great projects. Great fast shipment. (Posted on 18/05/2018)

Review by Andrew

verified purchaser

As described speedy delivery. Well packed (Posted on 19/03/2018)

Review by Pete

verified purchaser

Fantastic platform for prototyping (Posted on 27/02/2018)

Review by weitao

verified purchaser

Very nice (Posted on 22/02/2018)

Review by Greg

verified purchaser

Used this Arduino board with the DMX shield (also from Core Electronics) to build a fantastic DMX foot controller. Great service, parts and delivery from Core Electronics, thanks guys! (Posted on 16/01/2018)

Review by Robert

verified purchaser

A great gizmo to force me to learn how to program! Quite the learning curve. But worth it. (Posted on 27/12/2017)

Review by Dung

verified purchaser

Great product (Posted on 18/08/2017)

Review by Stefan

verified purchaser

Delivered as promised. Well packed against damage. Haven't used it yet. (Posted on 26/07/2017)

Review by Leon

verified purchaser

Nice, simple to use board. Got it up and running in a few minutes with the standard samples. (Posted on 31/05/2017)

Review by Daniel Joseph

verified purchaser

I bought the Arduino Uno as I needed it for a school project found it fantastic will be buying more of this product as I am have so much fun with it. if u are looking for a new project to start in electronics I would start here
for beginners . you can learn so much from core electronics and there classes they hold.

(Posted on 12/05/2017)

Review by Chris

verified purchaser

This is probably the best platform for beginners and the best of the Arduino range. Very practical and easier to prototype than the mini or nano. (Posted on 21/03/2017)

Review by Michael

verified purchaser

Product arrived quickly and well packaged. Very happy with it (Posted on 20/03/2017)

Review by Daniel

verified purchaser

Works perfectly, no complaints at all. (Posted on 22/11/2016)

Review by Joshua

verified purchaser

The Uno R3 is a great little development board. This one is the real deal, no clones.
This means you don't have to worry about a poorly made product interfering with your projects. Highly recommend buying this product (Posted on 9/09/2016)

Review by barry

verified purchaser

Given the fact all this stuff is new to me and wanting to turn my mill into cnc I found after hours of research how to do it with a Arduino.
Didn't want to waste my time with cheap clones that may or may not work.
bought the real deal from Core electronics, delivery was nice and quick, plugged it in, flashed a hex file plugged in the (solderless)wires to my drivers......and it worked straight away......happy days (Posted on 16/08/2016)

Review by Rainsey

verified purchaser

Product works as described (Posted on 15/05/2016)

Review by John - Very good product

verified purchaser

I have now bought 3 Arduino Uno's from Core Electronics and all purchases have been trouble free with super fast delivery. It's great to have an onshore distributor for such a good product.

The board itself is very easy to hook up the the computer, download and install the Arduino development software with bundled USB drivers and off you are good to go.

I will be ordering more from Core Electronics!

Thanks Guys (Posted on 3/05/2014)

Review by Adam - Great product

Great product, easy to get up to speed with.
I bought the Arduino Uno with the Adafruit Moto Shield, and it was a match made in heaven! (Posted on 25/01/2014)

Review by steven - another winner

verified purchaser

Core electronics you guys Rock.

i have purchased arduino from ebay just to find out that it was fake.

but you guys have the REAL thing and i am very happy with it. thanx

the service and fast delivery is awesome
(Posted on 24/01/2014)

Review by Rob - Great service

verified purchaser

fast delivery and very helpful (Posted on 4/01/2014)

Review by Phillip - Good price

verified purchaser

Good price for an Arduino (Posted on 1/12/2013)

Review by Ashley - Great Price, Fast Delivery

verified purchaser

This is my first Arduino, what I received was the genuine product as described. Shipping was a great price, and arrived quickly. (Posted on 1/11/2013)

Review by Michael - Great product

verified purchaser

Shopped around for a while, got this and the MEGA, both in stock and fast delivery. (Posted on 9/09/2013)

Review by Thierry - What a service !

verified purchaser

Really fast delivery, excellent quality for unbeatable price (Posted on 14/08/2013)

Review by Ted Lee - Happy + Curious

I am a new convert to Arduino being introduced to its endless capabilities only recently. I had a little trouble setting up the Driver Software for it, but after I Googled it I soon found someone had put up a video of the process & I was away. My first project was Blink, so easy to Copy & Paste the Sketch. After a couple of other projects I got a little more game & Googled Wigwag which netted me a Police blue & red strobe light which so far is my favourite. I eventually want to run various types of motors so have been Googleing & saving links to videos etc that might help later.

Who knows I may even put up a video on Youtube. (Posted on 18/04/2013)

Review by Jerome - Good!

Fast delivery, best prices I have found (Posted on 9/04/2013)

Review by Yousif - Great product

Good quality, happy customer. (Posted on 26/03/2013)
Exact shipping can be calculated on the view cart page (no login required).
We deliver Australia-wide with these options:
$3 for Small Items (3-7 days, not tracked, only available on selected small items)
$6.95 for Standard Post (2-4 days, tracked)
$9.95 for Express Post (Overnight for most of Australia, 2+ days for rural, tracked)
Pickup - Free! Only available to customers who live in the Newcastle region (only after we email you to notify your order is ready)
International Orders - the following rates are for New Zealand and will vary for other countries:
$11.49 for Pack and Track (3+ days, tracked)
$16.50 for Express International (2-5 days, tracked)
If you order lots of gear, the postage amount might increment based on the weight of your order.
Our physical address (here's a PDF which includes other key business details):
Unit 18, 132 Garden Grove Parade
Adamstown
NSW, 2289
Australia
Take a look at our customer service page if you have other questions such as "do we do purchase orders" (yes!) or "are prices GST inclusive" (yes they are!). We're here to help - get in touch with us to talk shop.