Hey there, are you loving the vintage gaming experience that is RetroPie? Wait, you haven't heard of RetroPie. No! You'd better go and check out our Gaming Kit for RetroPie tutorial ASAP.
Oh good, you now know the awesomeness that is RetroPie gaming on the Raspberry Pi. And it's awesome, just so awesome, but there's one thing missing. Kicking back on the couch and playing wirelessly. In fact, not just with Raspberry Pi, but any Bluetooth enabled gaming device. Evidently, the good folks over at 8Bitdo agree which is why they've created a line of Bluetooth gamepads in the style of vintage controllers, and they are glorious!
If you're eager to find out more about these fantastic controllers, check out the SNES style controller and NES style controller, but for now, just know that they operate over Bluetooth, are compatible with iOS, Android, Windows, and Mac, have a 20hr battery life that is rechargeable via the microUSB port, and have programmable buttons and firmware upgrades for future support. Sounds amazing right? Let's take a look at setting them up with a Raspberry Pi running the RetroPie operating system.
To follow the configuration process, you'll need a USB keyboard or a controller that you've already configured in RetroPie to navigate through the menu, for help on this, check out the link above to our Gaming Kit for RetroPie tutorial.
Configuring RetroPie Bluetooth
Before you follow any of the steps below, it's important that you follow this guide here from the RetroPie Github on updating your RetroPie system. You will need the latest version of RetroPie to follow this tutorial.
To get Bluetooth devices up and running with RetroPie, we need to dive into the RetroPie config menu by clicking on the RetroPie option at the main screen. Navigate to Bluetooth and press 'a' to enter the Bluetooth configuration. You can navigate the menu here using the arrow keys on your keyboard/gamepad and using 'enter' to select. Now that we're in the Bluetooth settings, follow the steps below to setup your 8Bitdo controller: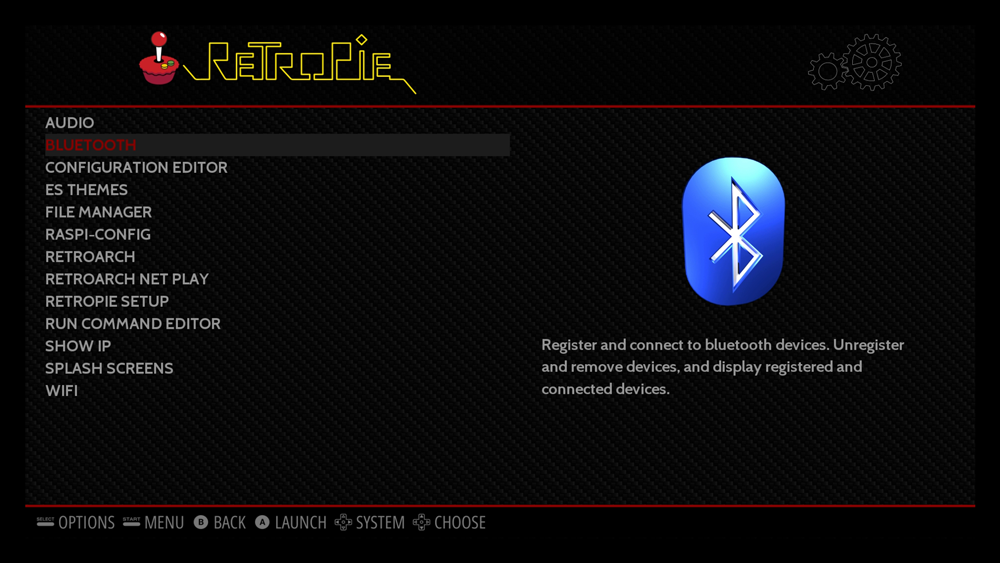 There are different modes you can use for your 8Bitdo controller depending on what you're connecting to, however, for the RetroPie, mode 1 is what you want. To use the controller in mode 1, simply power the controller on by holding the 'Start' button (different modes are accessed by holding different buttons combinations when powering on).
Go to 'Register and Connect to Bluetooth Device', after searching for devices for a few seconds it will display all available Bluetooth devices. The 8Bitdo controller will either show up labeled as 8Bitdo*model*, however in our tests, it can take a few times for it to appear, so if it doesn't show in the listed devices, press cancel, and then select 'Register and Connect…' again until it appears. Once visible, select the controller and hit enter, after a few seconds it will let you know if it was successfully connected.

Now we need to go down to 'Set up udev rule for Joypad', select your 8Bitdo controller and press enter. This is required for your controller to work correctly.

Go to 'Configure Bluetooth connect mode' which should be set to 'default' and change it to 'background'. This will ensure that our controller is always connected to the Pi, even after a restart, otherwise we'd have to go back and connect it every time we turned the Pi on.

The last step is to toggle the '8Bitdo mapping hack' to 'OFF'. This was required for a previous firmware version of the 8Bitdo controllers, but all new controllers come with updated firmware so we need to set it to OFF.
So that's all there is to set up your brand new 8Bitdo controller, all that's left is to configure it just like we would any gamepad in RetroPie. Exit the Bluetooth settings by hitting 'cancel' which will take you back to the RetroPie menu, press 'enter' on your pre-configured keyboard and navigate to 'Configure Input' and setup your controller using the mapping guide found in our Gaming Kit for RetroPie tutorial.
And now, and all those minutes of hard work at the keyboard, you can sit back, grab a drink and experience the joy of Bluetooth controllers. As mentioned on the 8Bitdo product page, the 8Bitdo controllers are compatible with other Bluetooth devices such as iOS, Android, Mac and Windows platforms. You can get your 8Bitdo controller work with them using the platforms Bluetooth device setup, just make sure that you're using the correct controller mode. You can read more about the controller modes for your gamepad here.