So you've got Eagle installed and you're itching to get creating? If not and you're wondering what's going on, check out our Drawing Schematics With Eagle tutorial, otherwise this won't make much sense.
EAGLE is awesome, and comes with a lot of built in libraries included with the standard installation, however often the layout of them, or the design of some components isn't exactly intuitive, so many people have created their own EAGLE libraries and make them available for public use (it's fairly straightforward to create your own library, however that's a conversation for another day).
For a DIY electronics enthusiast like ourselves, these libraries can be a bit limiting as they are targeting components used in commercial level fabrication. Both Sparkfun and Adafruit have come to the rescue and released EAGLE libraries for their product range, along with a nice selection of standard, everyday components.
To install these libraries, follow the links and download the .zip files for Sparkfun and Adafruit.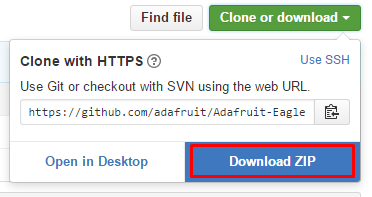 Locate the 'lbr' folder in your EAGLE installation directory, and extract the contents of each folder into it.
Finally, we have to make sure that EAGLE knows we want to use these libraries, so we open up the EAGLE control panel and in the navigation area on the left of the screen find the 'libraries' drop down menu, and click on arrow to expand it.
Find the folders that say Sparkfun and Adafruit, right click on them and select 'use all'.
That's it, we're done! To make sure they installed correctly, open up a new schematic and click 'add component'. Give it a few seconds to recognize the new libraries, and you should see the Sparkfun and Adafruit offerings there.
Well done, you're awesome! Now get creating!