The aptly named Ultimate Kit 2.0 is the final kit in the line-up of educational robots from Makeblock. With over 160 independent mechanical parts and modules, the Ultimate Kit 2.0 answers the call for almost limitless creative freedom. Match this with the MegaPi for brains and you will have all the motion control functionality that you will need. Makeblock's Ultimate Kit 2.0 is a massive upgrade to the mBot and the Ranger and is the best way to expand your Makeblock collection.
Ultimate Design.
Given this kit has 160+ mechanical components and modules, it certainly lives up to its Ultimate name. As we all know, It's not just about quantity, these components have been chosen for the most rewarding and educational experience possible. The mechanical components that are included in this kit are commonly used in industrial and professional settings, and each of the electrical components are commonly used in anything from simple designs to the most ambitious of projects.
MECHANICAL PARTS
Aluminum Extrusion Parts.
Plastic Timing Pulleys 90T.
Plastic Gears.
Tracks and Wheels.
Cables.
Others Hardware and Accessories.
ELECTRONIC MODULES
With all these parts included in the kit, it can sometimes be hard to get started in a direction for a project. This is why Makeblock has created 10 example designs to guide your experience in the right direction, softening the robotics learning curve, although don't be fooled, this kit in no way compromises versatility for simplicity. Once you are comfortable with how the kit goes together, it is easy to then take on your own project and continue to learn with robotics.
10 example projects from Makeblock.
5 Configuration examples from makeblock.
Rolling Tank.
Self Balancing Robot.
Detecting Robot.
Robotic Ant.
Robotic Arm Tank.
Robotic Bartender.
3D Capture A.
3D Capture B.
Camera Dolly.
Catapult Ram.
Ultimate Power.
As mentioned above the MegaPi brains of the Ultimate Kit 2.0 is the most powerful board in the mBot series. It features an ATMEGA2560-16AU microcontroller allowing a massive total output of 12V 10A, driving up to 10 servo motors at the same time as either 8 DC motors, 4 stepper motors or 4 encoded DC motors. This will give you superior motion control capabilities and open may project possibilities with just this board. One of the most notable features of the MegaPi is its ability to interface with a Raspberry Pi, opening up the ability to interface with a Rasberry Pi adds so much possibility to the Ultimate kits possible projects. For instance, image recognition and object tracking are now at your disposal.
The MegaPi can seem daunting at first, due to its new layout and complicated looking design. However, it is designed to give the user much more freedom to configure the MegaPi to their own needs. Furthermore, Makeblock has simplified using the MegaPi by providing modules such as the rj25 shield for compatibility with the Makeblock sense modules and making the MegaPi programmable through mBlock and Arduino IDE's. A Massive supporting community surrounds all of the makeblock kits, giving you the chance to learn and contribute what you have learned to the community. A great place to get help is the Core Electronics forum where you can find answers to many questions regarding makeblock and many other maker platforms.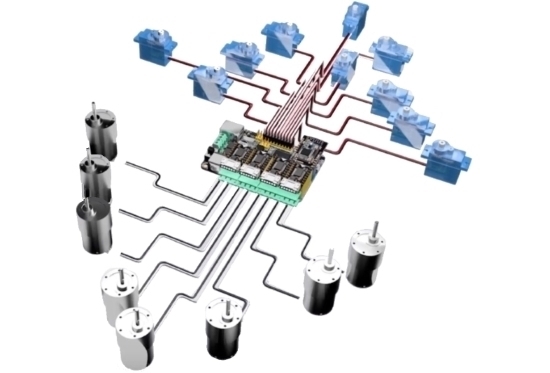 An example of the MegaPi driving 10 servos and 8 DC motors.
Final Thoughts.
The Ultimate 2.0 kit is the best way to kickstart your robotics collection. With its huge range of mechanical components and sensor modules, you will have no trouble learning the ins and outs of robotics and mechanical design leading you towards independently designing robotics and encouraging ultimate creativity. Raspberry Pi compatibility means more project possibilities and more opportunity to grow your knowledge about popular interfacing techniques, the Ultimate 2.0 really is the ultimate educational tool in robotics.
For more information on Makeblock check out this article discussing how Makeblock aims to educate younger generations in Robotics and programming. Also, take a look at our tutorials page, or get in contact with us through the Core Electronics forum for any questions you might have. Good luck with your projects!