Educators everywhere are lining up to have the most recent, high-tech teaching tools to introduce STEM learning in the classroom. With the rate that modern technology is advancing, educators can often feel overwhelmed with the sheer number of choices available, however, that doesn't have to be the case. While new educational gear is hitting the shelves regularly, Circuit Scribe have isolated a unique section of STEM learning by making low-level electronics fun and engaging.
While some products are becoming more and more advanced with app integration, wireless connectivity, and cloud platforms, Circuit Scribe teaches the fundamentals of electronics and building a circuit with creative magnetic blocks which can be connected up using a conductive ink pen and drawing the circuit on paper. That's right, on paper! No soldering is required, no small components that are easily lost, even the pen is non-toxic and designed for children.
For a more in-depth look at what Circuit Scribe is and how it works, take a look at our Getting Started with Circuit Scribe tutorial which covers off on the basics. Today, we're going to look at how Circuit Scribe can be used specifically in the Classroom, and empower educators to create fun and dynamic lesson plans using Circuit Scribe.
So who is Circuit Scribe for? Well, it's for everyone, we definitely had some fun creating some simple circuits with the silver ink pens and finding creative ways to use the modules, however, Circuit Scribe is definitely aimed towards younger makers. We recommend Circuit Scribe for ages 7-14, however, there's definitely plenty of opportunities outside of that bracket. The ideal number of students working together when using Circuit Scribe is between 1-3. Whilst it's a platform which encourages collaborative learning, it can definitely be a case of too many chefs in the kitchen if too many people are working on the same circuit. Part of the awesomeness that Circuit Scribe brings to the table though is that a project isn't just connecting modules up. If you wanted to make a light up house, you would of course need the circuit, but additional challenges come in the form of constructing the house, finding ways to integrate the steel backing plate, mounting the modules, and designing the connections.
Circuit Scribe Classroom Kits Comparison
Whilst there are a few different Circuit Scribe kits available, we've got two kits which are specifically geared towards educators with inclusive bundles and affordable pricing; the Maker Classroom Kit and the Basic Classroom Kit: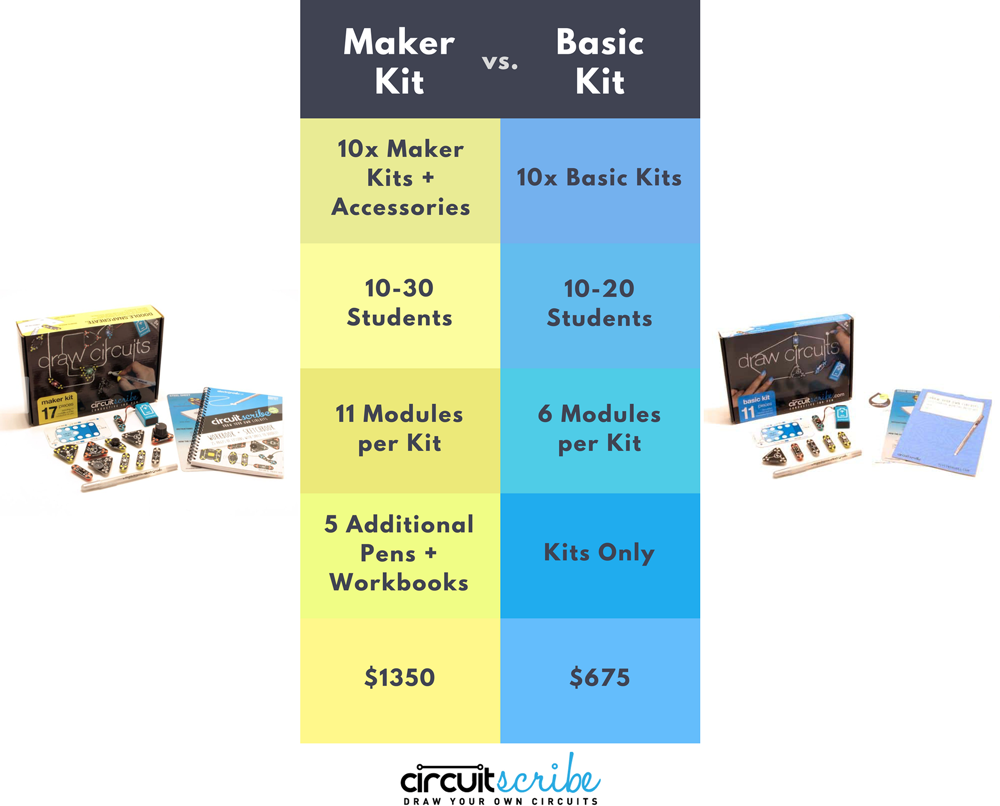 As you can see in the comparison table, each kit is designed for large groups, however, the Maker Classroom kit has a lot more depth to it thanks to the wide variety of modules available, compared to the basic kit. We'd recommend the Maker kit for slightly older students and bigger groups who want to create more complex circuits and utilise the additional modules, and the basic kit for those who want a more streamlined approach, perhaps with a smaller group or more guided lesson plans.
Project and Lesson Ideas for Circuit Scribe
One of the best parts about Circuit Scribe is that they don't just leave you to your own devices, but in both the Maker and Basic kit they include a binder book which contains project ideas, example circuits, and plenty of room to design your own. We've put together two super easy project ideas that can be made easily in a classroom using nothing more than Circuit Scribe and post-it notes (or a card).
Light-up Christmas Card
Whilst mine is drawn on a post-it note, it can easily be transferred to a larger card for Christmas or a Birthday. I've drawn a very simple circuit which just uses an LED and Power module which stays on all the time, however, you could easily create a paper switch when the card is opened. It's a super simple project which is ideal for a first time user to get their feet wet with Circuit Scribe.
Light-up Tic Tac Toe
Stepping up a bit from the previous project is the classic game of Tic Tac Toe (otherwise called naughts and crosses). However, you can draw a circuit which completes the path for the LED to light up when someone wins three in a row (traditionally celebrated by drawing a line through it, so it works well). Whilst it still only uses a Power module and LED modules, it introduces the idea of an open circuit which isn't completed until something happens (a student completes the game).
What Now
These are just a few ideas on how you can use Circuit Scribe in the classroom as a fun and engaging STEM learning tool. There are some fantastic projects which can be made, especially by combining more complex modules from various kits.